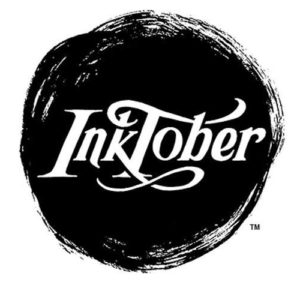 Inktober is a annual event where artists of all types are encouraged to draw in ink every day for the month of October. Since most tangle art is created using pens or markers, Inktober has become quite popular in the Zentangle® community. Here are a few tangle-related Inktober events and giveaways on social media.
This Inktober 2018 Guide will be updated throughout the month of October as new giveaways are announced.
Inktober 2018 Tangle Art Challenges
#InktoberTangles Challenge: A list of 31 tangles to use as a creative prompt for every day of October.
Use and follow the hashtag #InktoberTangles on social media.
Facebook groups Square One Purely Zentangle and Today's Tangles are also participating in the #InktoberTangles challenge (Both groups require membership to view art and post in the group).
Tangle All Around Inktober Challenge: The Tangle All Around Facebook Group is participating in Inktober with its own list of 31 tangles. Access to the creative prompt requires membership to the Tangle All Around Facebook Group.
Use and follow the hashtags #tangleallaround and #inktobertaa on social media.
Official Inktober 2018 Prompts: This is the official Inktober 2018 creative prompt list. Although not specific to tangle art, you are certainly free to use each day's theme as creative inspiration. It's also a good way to keep track of general Inktober news and giveaways.
Use and follow the hashtags #Inktober and #Inktober2018 on social media.
If you follow the official creative prompts, add the hashtag #zensationschallenge for a chance to win Zebra Pens' entire line of Zensations pens.
Inktober 2018 Giveaways
Draw a mandala using a colored pen (black ink isn't allowed).
Prize: Set of 48 Arteza fineliners.
Ends: October 31
Prize: The entire Zensations line of Zebra Pens.
Ends: October 31
Requires Instagram Account
Prizes: Strathmore Paper, Princeton Brushes, Ink, Sakura Micron Pens
Ends: October 8
Requires Instagram Account
Princeton Artist Brushes Giveaway
(Same exact giveaway as above, but a second way of entering).
Prizes: Copic Markers, Multiliners, and Sketchbook.
Ends: November 2
Requires Massdrop Account
Flash Giveaways: The following blog and Facebook group are holding flash giveaways throughout the month of October:
If I missed any Inktober 2018 challenges or giveaways, then please let me know in the comments.