One of the big draws of Zentangle® is that anyone can jump into it and create something. You don't need any art skills, expensive supplies, or a super-creative mind to create tangle art. Simply draw a random squiggle with a pencil and fill it in with circles, spirals, and other easy patterns (called "tangles"), and that's it–you've created a piece of art.
It's the "zen" part of the method that really hooks people, though. Moving the pen across the paper, concentrating on each stroke, and watching your art come to life is a very satisfying and zen-like experience. Whatever worries or stresses are on your mind temporarily quiet down while your concentration is focused on the drawing. It is, after all, described as "meditative art" for a reason.
If any of this intrigues you, then I recommend visiting the official website for more details on the Zentangle Method® and mindset. I've provided only a brief summary here so that we can get straight to the meat of this guide: How to get started as a Zentangle beginner.
Recommended Art Supplies for Beginner Tangling

Here is a list of the bare minimum of supplies needed to get started with Zentangle. Anyone who doesn't feel like shopping for each individual item can purchase a starter pack that includes paper, pens, and pencils.
Sakura Pigma Micron Pen: This is the pen that is officially recommended by Zentangle and every tangling guide ever. It's an inexpensive pen, but it packs a lot of value. With a very fine tip and vibrant ink, it's perfect for creating beautiful tight tangle art. If you're on a budget, splurge on the pen and skimp on everything else. The pen is worth it and vital to the experience.
While it's possible to buy the Sakura Pigma Micron pens individually, I recommend buying the Sakura Pigma Micron Set of 3 Sizes or Set of 6 Sizes. The wider pen sizes help immensely with coloring in spaces. If you're buying a single pen, I recommend the 03 size. The 01 size is also quite popular.
Artist Tiles: You can use any paper you wish, of course, but I recommend artist tiles. Being able to turn the tile around while drawing is a heck of a lot easier than moving a sheet of paper or sketchbook around. However, I recommend artist tiles more for psychological reasons than anything else. It's easier to get started and create a full picture when you're faced with a small blank surface than a large one.
I use both Strathmore 300 Artist Tiles and the Studio Series Artist's Tiles because, frankly, they're inexpensive, work well with Pigma Micron pens and graphite pencils, and are of satisfactory paper quality. Zentangle also sells their own official tiles which you can buy off their official website or through your local Zentangle representative. See my List of Artist Tile Options for more details about paper.
Graphite pencil: A simple No. 2 school pencil will suffice, although you may want to eventually upgrade to a sketching pencil set depending on how much you enjoy shading your tangles.The Staedtler Mars Lumograph and Derwent Graphic Pencil sets are both under $10 quality sketching pencil sets that will more than meet your shading needs.
Pencil Sharpener: You need to sharpen that graphite pencil somehow! I used a Prismacolor Scholar pencil sharpener for a long time before upgrading to the Kum Automatic Brake Sharpener.
(Optional) Tortillions: These are small paper stubs that you run over a graphite-shaded surface to help blend and smooth the shading. Tortillions aren't a "bare minimum" requirement, but they're cheap and make a world of difference in shading. I recommend it to beginners if you have a little room in the budget for it.
(Optional) Sketching Set: If you're starting from scratch, it may be more economical and convenient to simply purchase a sketching set. Sketching sets typically include pencils, tortillions, erasers, and a pencil sharpener. You'll be sacrificing quality for price, but you can always upgrade supplies as needed later.
Amazon Art Supply Shopping List
How to Learn Zentangle
Here are a few ways to learn Zentangle:
Take a Zentangle class with a Certified Zentangle Teacher (CZT). You can find local CZTs in your area through Zentangle's official website. Contact them and ask about local classes
Read some beginner Zentangle books. Here are two that I highly recommend: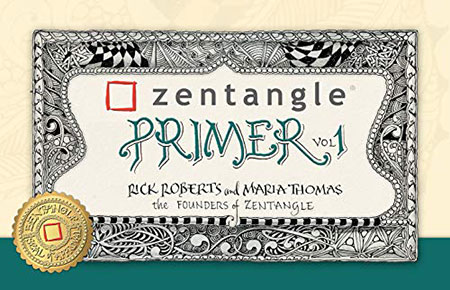 Zentangle Primer Vol. 1 by Rick Roberts & Maria Thomas – This is the most comprehensive and up-to-date Zentangle book I've read thus far. It teaches basic Zentangle techniques, shading, how to handle mistakes, and introduces the reticula and fragments concept. It's an excellent manual for beginners and experienced enthusiasts alike. Strongly recommended.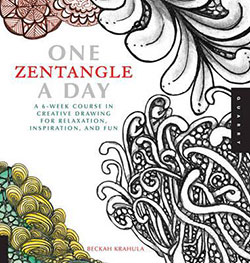 One Zentangle a Day by Beckah Krahula, CZT.
Ask around the Zentangle community and you'll discover a lot of people got started with this particular book. What puts One Zentangle a Day ahead of other beginner books is that it offers more than a simple "How to draw X" tutorial. It instead focuses on technique and lists many creative ways to elevate your Zentangle art.
Other Zentangle Resources
Here are a few Zentangle resources that have been immensely helpful on my art journey: