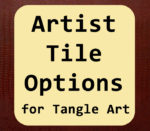 I'll be blunt: When I first started researching Zentangle®, I almost quit before I even started when I saw the price of the recommended paper tiles. There's no way I could justify buying high-end paper for something I wasn't even sure I'd like. Surely there had to be more budget-friendly options. It took some Googling, but I finally found the generic name for those square paper tiles–"artist tiles." Once I knew what to search for, finding other paper tile options got easier from there. So, in the hope of saving others hours of research and shopping around, I've put together a list of all of the artist tile options that I'm presently aware of.
List of Paper Artist Tiles
Strathmore Artist Tiles: This famous paper manufacturer offers several artist tile options in different sizes, colors, and weights. No matter what type of media you're using, Strathmore has an artist tile that can handle it. Most of their tiles are available in either 4″ x 4″ or 6″ x 6″ sizes. Strathmore Artist Tiles are widely available online and in many local art supply stores.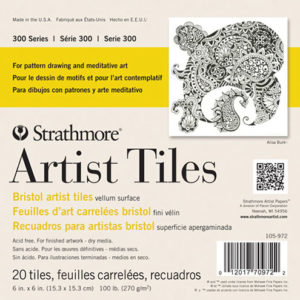 Studio Series Artist Tiles: At 75 tiles for a little over $5.00, the Studio Series Artist Tiles are an excellent budget option that is perfect for "everyday tangling." I'm a big fan of these tiles because they allow me to experiment without the worry that I'm wasting expensive paper. The paper handles Sakura Pigma Microns, gel pens, graphite, and dry media very well, but those
interested in watercolor or other wet media should look elsewhere. Studio Series' product line is limited to white and black tiles in 3.5″ x 3.5″ inch size. I've only ever seen the Studio Series Artist Tiles available on Amazon and nowhere else.
Zentangle Artist Tiles: The official Zentangle company sells their own line of high-end tiles in varying sizes and colors. You buy them through the official Zentangle website or your local CZTs (Certified Zentangle Teachers®).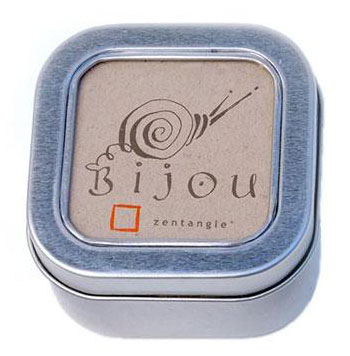 Index Cards: Why not? Index cards are cheap, widely available, and work well with all kinds of pens. If you're interested in experimenting with colored paper, try buying packs of assorted color index cards. Index cards aren't the fanciest option, but they offer a ton of creative potential.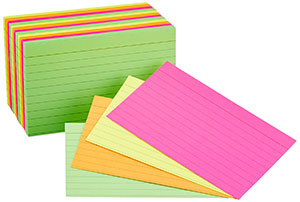 Create Your Own Custom Artist Tiles
Cutting your own tiles out of standard size sheets of paper is a surprisingly popular practice in the tangling community. This option allows people to customize the size, weight, and color of their tile.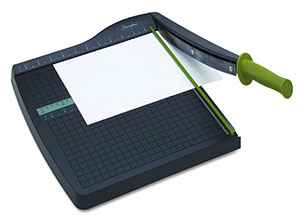 Cutting your own tiles also saves money in the long-run if you can get them cut in bulk. For example, some artists bring entire reams of paper to their local print shop and have the paper professionally cut into tiles. You can further cut down costs in the long-run by investing in a paper cutting machine and doing the bulk cutting yourself. Using these methods yields thousands of tiles per ream of paper, and thus a significantly lower cost-per-tile compared to individually sold packs of tiles.
Die Cut Paper Circles (Round Artist Tiles)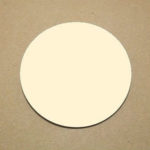 For those who are interested in circle-shaped paper options for drawing mandalas, Etsy is your friend. The trick here is to search for the keyword "paper die cut circles." You'll find many die-cut circle options in all sorts of different sizes, colors, and types of paper. Outside of independent Etsy sellers, the only major brand that sells packs of die cut circle "tiles" is Zentangle, which they call "Zendalas." Zendalas are 4-5/8″ in diameter and are available in white, black, and tan paper.