A common roadblock for many in the Zentangle® community is coming up with a good string. Here's a list of string resources and some advice to help you move past it and get drawing.
Free Zentangle Strings
Here are several links with free Zentangle strings. Thanks to all the website owners and contributors who helped provide them.
Zentangle Strings Book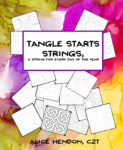 For those who enjoy Zentangle books, check out Alice Hendon CZT's Tangle Starts Strings. It's an activity book of 366 strings—one for each day of the year and then some. You can draw directly in the book, or simply keep it around as a string reference guide.
Getting Over "String Anxiety" and Drawing Your Own String
My favorite technique for drawing strings is to simply put the pencil on the paper and move it around without looking or thinking about it too much. Sometimes I close my eyes entirely when I do this to avoid over-thinking it. Make sure you put some scrap paper underneath the tile in case you accidentally move the pencil off the tile.
I know the above sounds like obvious advice, but it took practice for me for me to stop over-thinking it and just draw. When I first started, I'd often find myself wasting so much time fretting over the perfect string, thereby sucking all of the fun and "zen" out of drawing. It reached the point where the "string anxiety" became so annoying and time-consuming that I said "screw it" and started doing the above technique of letting my pencil roam across the paper without much thought. Not only do I get more stress relief this way, but it scratches that creative itch deeper than my previous method of obsessing over the "right" string. I end up with more unexpected results this way.  So if "string anxiety" sounds like a familiar issue to you, then I recommend trying the above technique a few times to see if it helps.
More Zentangle String Ideas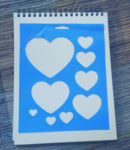 Stencils. Draw an outline using stencils and then fill it in with tangles. But if you don't have stencils or are tangling on-the-go….
Trace household objects. Find some interesting objects from your desk, purse, backpack, or around your home, place them on the paper, and trace around them with pencil. I used to do this often with coins before I got a circle stencil. Scissors are also fun tile-friendly shapes.
Use a tangle as a string.
Use a fragment as a string.
Use letters and numbers as a string. Make a string out of your name or initials or a meaningful date.
Use a literal string. Attach a string to a weight and let the string randomly fall on your tile. See Diva Challenge #29 for pictures and instructions.
Create a string from quick contour drawings of household objects. Not as intimidating as it sounds!
Draw a labyrinth. Fill with tangles.
If I missed any string sources or tips, then please let me know in the comments.